Skate Canada has developed a new CanSkate program based on Sport Canada's long term athlete development (LTAD) principles. Exciting new features include a fresh new look, new awards, great tools for Coaches and most importantly a tested and proven new curriculum and delivery methods that guarantee skater success in developing stronger basic skills and developing them faster. But there's more! The new program also includes specific skills that pertain to hockey, ringette, speed skating and figure skating. The result is a dynamic new program that prepares all skaters for vurtually every ice sport.
Skate Canada is also proud to have all its programs taught by professional coaches who are specially trained and certified through the National Coaching Certification Program (NCCP).
Learn to Skate
Canada's Best Skating Program
For Ages 3 and up - including Adults!
What is CanSkate?
CanSkate is a dynamic learn-to-skate program that focuses on fun, participation and basic skill development. CanSkate centers on the fundamental skills needed to take part in any ice sport or to skate as a recreational activity. Skaters learn the fundamentals for success in skating: Agility, Balance and Control. It includes a Fast Track to encourage speed and length of stride, using the full ice. Our coaches are Nationally Certified to teach the mechanics and proper technique of skating. You'll see our coaches are assisted by trained by program assistants, keeping the 1:10 coach/program assistant to skater ration or lower.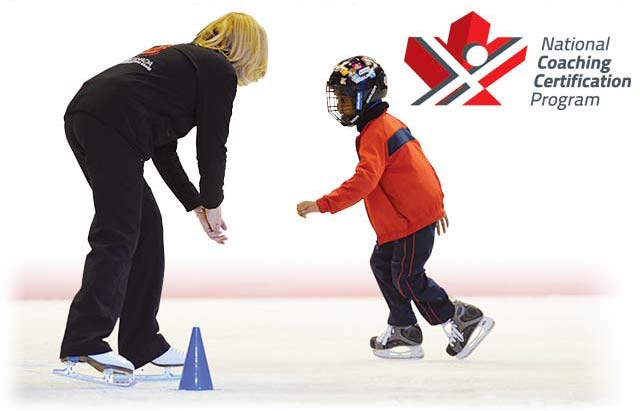 Who's it for?
For beginners of all ages, children or adults, as well as for those wishing to improve their basic skills whether their focus be for figure skating, hockey, speed skating or just skating for fun.
Achievement system
CanSkate is organized into three fundamental areas including Agility, Balance & Control. Working in groups of similar skill levles, skaters earn ribbons and badges at their own pace. Ribbons for each of the fundamental areas (Agility, Balance and Control) are awarded as the skaters demonstrate success at each. They move onto the next level whether or not they achieve all 3 ribbons to earn the badge. Conitnuous learning is rewarded!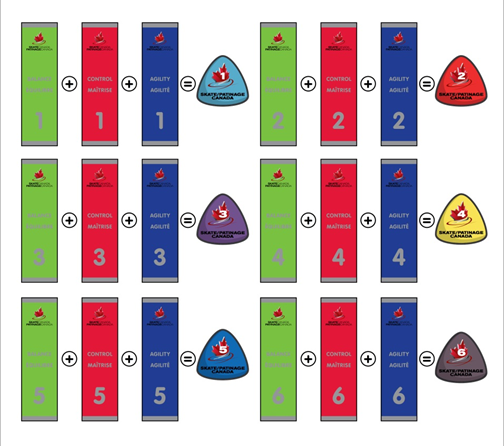 CanSkate provides kids with the best foundation for figure skating, hockey, speed skating and ringette.
Equipment needed
- CSA approved hockey helmets, gloves and skates are required.
- No rentals available

Figure Skating
StarSkate & Competitive Programs
Our programs are designed to meet the needs of skaters who have the required abilities and desire to figure skate in the Skate Canada StarSkate and Competition system. Lessons are offered in both group and private settings for all ages. Our coaches evaluate young skaters in CanSkate and invite them to join a program based on their readiness and at a level best suited to them. If your skater is not currently in our CanSkate program and you want to have your skater evaluated for figure skating, please contact our registrar.
Here is a description of each level of program.

Little Stars (Ages 4-8) Skaters wishing to Figure Skate. This program is taught using the Stage 2-6 Canskate Levels . Skaters in this program have the opportunity to be invited to our Rising Stars Programs. Must know how to skate on their own with no assistance. Figure Skates and helmets are required for this Program. No Rentals
Rising Stars Program
Introduces the basics of figure skating. It is offered to skaters who show abilities and have a spirit for the sport. Our Rising Stars Program includes high quality, reasonably priced training in a group setting twice a week. This program will give skaters the tools to progress through critical phases of figure skating skill development.
Future Stars Program
Offered to skaters who have potential competitive abilities, Future Stars includes high quality group lessons both on and off the ice. This program will give skaters the tools to progress to our Junior, Intermediate and Senior figure skating programs.
Junior, Intermediate and Senior Programs
When a figure skater has achieved the basics and wants to pursue figure skating at a higher level, our coaches guide them to the program best suited to their needs. Theses programs emphasize on-ice and off-ice training. Group instruction is maintained and the number of small group or private lessons begin with designated coaches and expand in frequency throughout the week. As skaters expand their commitment, training increases and is available through the fall/winter, spring and summer seasons. Skaters strive to perform and compete. Competitive skaters go to local, provincial and national competitions.
Teen & Adult Figure Skating
We offer small group lessons to teens & adults wanting to learn figure skating for the first time. Registration is found under Figure Skating > Private Lessons.
Special Olympics
We proudly support our Surrey Special Olympians in all our programs. We offer a dedicated session on Wednesdays during the Fall & Winter season. Skaters are included in our other programs based on abilities. Come join our successful skaters as they learn great physical skills and work with others.
Fee Structure
The cost for figure skating is broken down into (1) ice time and (2) coaching fees. Skaters register and buy the group programs and lesson ice times through this website. Coaches bill for their instruction time separately. Please ask if you need this explained further.
Group and private lessons for all ages !